Booking Underway, Volunteer Signup Now Open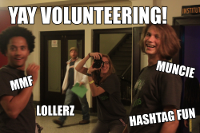 August 8th, 2016 The band application deadline has ended, and we're now hard at work getting confirmations from bands so we can announce an official lineup. 90 bands have applied to perform and we only have room to book 40 to 50 of them, so we're putting a lot of effort into getting a good, representative mix of both well-known and up-and-coming bands, bands from Muncie and out-of-town bands that have a following in Muncie, bands for the younger crowd and older folks, and bands from every major genre. Sadly, we can't book all of the bands that we want to (and saying no to half of the applicants is heartbreaking), but we have a preliminary lineup that we think everyone will really enjoy, which includes rock, metal, indie, country, americana, blues, folk, electronic, and hip-hop.
So hang tight, and expect announcements about this year's lineup soon.
In the mean time, consider signing up as a festival volunteer and helping us make the tenth year of this festival a success.